Art is a drug for many people and without it our lives would be dull and boring, we're sure that we can agree on that. Out of all the forms of art, photography deals with reality in a distorted manner, capturing segments of real life but transforming them into totally different images with the help of editing tools.
The photographers and photo editors have supreme liberty when it comes for photo manipulation, because they have the appropriate instruments at hand, which have evolved greatly in the past few years and continue to evolve at an outstanding rate. For all the art lovers who enjoy playing with photographs in a digital environment, we prepared a list of eight great websites where they can download free brushes from.
Check them out, you will certainly find a lot of interesting and helpful tools!
Brusheezy promotes itself with a funny tagline: "Stupid Name. Cool Brushes!" and is proud to display a big community of happy members who use the large variety of brushes they have to offer. In the brushes category of the website you will find around 2000 different brushes to choose from and you can also browse through the patterns and textures sections, which have around 300 items each.
The good things don't end here, as there are also other resources for Photoshop waiting to be downloaded by eager users: PSDs, actions, shapes, styles, gradients, templates and UI kits. Members benefit from an active community and they can share brushes and other tools to each other. Photo editors who want even more have the option of going Premium on Brusheezy, in order to get unlimited photo editing resources from the website.
The logo of the website is decorated with a crown on top of the g from "Brushking", isn't that a good way to show domination? Well, we don't know about how much of a sovereign is the website in the domain of brushes, we only know that it offers lots of interesting options of brushes, split into different categories: abstract, fractals, drawings, nature, splatters, vectors, watercolors, ornaments and many others. When going to the "PSD Files" section, BrushKing redirects towards PsdKing, offering many PSD files for download, and moreover, what is very interesting and useful, there is also another website called "TutorialKing" redirecting from BrushKing, which has many Photoshop tutorials from users.
This site is simple and straightforward, offering three large categories of brushes, patterns and textures, each of them split into other subcategories according to their design and style. In the lower section of the page, under the displayed brushes, you will find lists of the most popular brushes, as they were chosen by users. This way you can see which were the most popular brushes of the day, of the month and the most popular brushes ever downloaded from the website. Check them out, there's a huge variety to choose from.
QBrushes comes from "Quality brushes for Photoshop", which is the site's tagline. Indeed, the brushes are quality ones, and the site organization is quite interesting also. You can browse for brushes both by category and by tags, which makes the search for what you need easier and more fun. The site also has a category called "Your Favorites" where you can save your favorite brushes for later download. If you want to be part of the community and contribute to the well-being of others, you can add your own brushes to the data base, for others to download. There is also a blog attached to the site where you can find lots of cool news and tips related to photo editing.
This website is packed with many interesting things and ideas for Photoshop fanatics. There are lots of tutorials on photo retouching, special effects, animation, interface design and many others topics, really helpful for learners. Regarding the downloadable goodies, you can find fonts, brushes, text effects, textures, plugins, icons and layers. There is also a "Books" section on the website, where you can find many suggestions and reviews of books that are very useful for photo editors and Photoshop passionate, and finally a "Blog" section where you can read many useful articles on techniques and tools.  There's a lot to grasp from Photoshop Roadmap, you should really spend some time checking it out.
Brush Lovers is a simple and handy website, where users can benefit from three things: brushes, layer styles and patterns. The brushes are divided into several categories that range from abstract, animal or holidays to techno, vintage or splat. There are many other categories to browse through, so you just need to have patience. Each brush has a small description attached, so it will be easier to choose your favorite if you have some words that talk about the meaning of the design.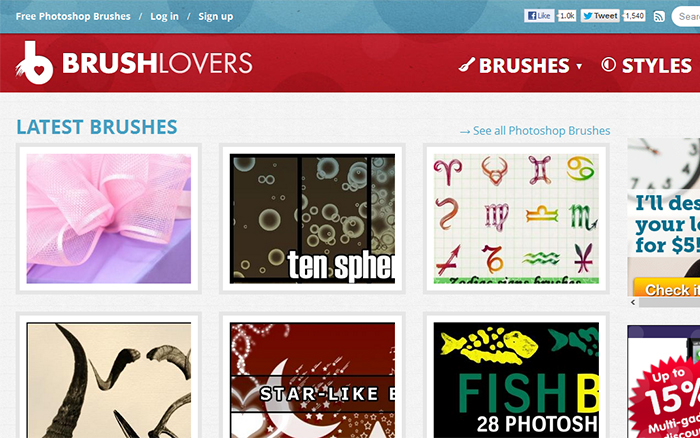 Here you can find 1000+ free brushes to download and other brushes and vectors if you get a premium membership. You can choose to submit your own brushes on the website also, if you want. You will find sets of brushes in black and white and in colors, with as many designs as you can imagine: splats, butterflies, flowers, planets, clocks, hearts and a lot others. Browse through the gallery yourself and see what you can find.